Hello
Mankind, which dreams of health and longevity, continues to be more interested in health and,
at CES (Consumer Electronics Show), which features the world's largest exhibit for
home appliances, personal health and medical devices are gaining attention as an important
technology that will open up the future along with artificial intelligence-based services.
Aging societies are a global trend and Korea is transforming especially fast into a graying one. Due to the rapid increase in medical and
social security expenditures, the competition to dominate the medical services market is fierce. The growth of ICT-based medical devices,
which may be attached to, transplanted into, or orally ingested to detect bio-signals and promote real-time diagnosis and treatment,
requires high-speed, miniaturized, and refined medical device technology.
Wireless power transfer technology can be utilized in a variety of areas. In particular, the embedded medical device and wireless medical
center market is expected to experience ten-fold growth by 2025 thanks to the extended introduction of remote medical treatment
devices. The power cords currently utilized in medical environments restrict a patient's activities and carry a risk of infection, highlighting
the need for innovative technology. Batteries that can be implanted into the human body also create battery replacement and
miniaturization concerns.
Our center conducts converging research in the areas of IT (effects: extended lifespan of medical batteries, elimination of risks caused by
power lines), NT (effects: electronic medical device materials that are safe for the human body), and BT (effects: simultaneous diagnosis
and treatment), and seeks to improve medical device performance to develop technology that saves lives.
To achieve this, new technologies and research from a number of different areas are needed, including wireless power transfer, carbon
electrodes and biocompatible exterior materials, batteries and antennas, unrestrained biometrics, and nerve electrodes. Once such
technologies are realized, wearable, portable, repairable, and insertable medical devices can be commercialized. Cooperating universities
and companies currently carry out research divided into 3 groups. Groups 1 and 2 are responsible for general operations and research,
while Group 3 performs research and clinical studies at Seoul National University Hospital based on research outcomes.
Our center aims to converge wireless power transfer techniques, new materials
and elements, and bio-interface technology into the development of unrestrained,
body-insertable medical devices and a wireless power transfer system, thereby enabling
the smooth supply of power, signal transmission, miniaturization, and refinement of
medical sensors. Furthermore, we will perform research on technology related to new
materials and elements that satisfies the conditions of innocuousness to the human body,
miniaturization, high efficiency, high reliability, and flexibility, all of which are required in
wireless power transfer and the transplantation of actual medical devices into a human
body. For our efforts to bear fruit and ultimately contribute to the creation of a new
industry and future growth engine, we kindly ask all of you for your continued interest
and support.
Thank you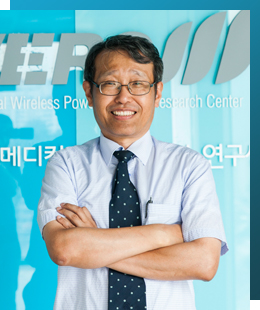 Center for Intelligent BioMedical Wireless Power Transfer at Soongsil University
Seo Chulhun, Center Director